Magnificent house in Kolašin for sale
Location
The house is located in the Kolasin settlement of Dulovine, which is also a very wooded area, airy and with a wonderful view of the forest and the mountain. The house was built a few years ago and it is a really high-quality building, as we saw for ourselves on the spot. It was built according to all standards and designed as a building with 4 large apartments of 100m2 each with 4 garages and auxiliary rooms.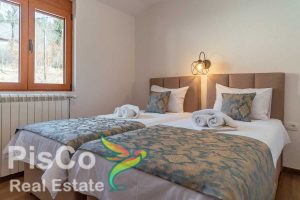 The construction quality is a class above average, starting from the thick insulation of the walls of 10 cm to the additional cladding of the internal walls, excellent external locksmithing and a complete cooling and heating system. The property is in order and is managed by one owner. The access road is neat and clean and easily accessible from the main road. The plot is fenced with large sub-walls and is completely landscaped and maintained. In front of the house there are facilities for rest and recreation during nice days.
Interior and design
The complete design is done in such a way that it provides a complete feeling of comfort and space. All apartments are furnished with solid furniture and fully equipped. The house is rented out on a daily basis during the summer and winter season and brings significant income throughout the year. At the foot of the building, there are garages, a fully equipped laundry room and a boiler room, as professional heating has been installed throughout the building.
Our opinion:
Kolašin is currently in a strong trend of investment growth because it is apparently becoming a regional ski center with excellent connections and an excellent price-quality ratio. The modern highway that has been opened from Podgorica to Kolašin opens up new opportunities, and considering the fact that investments continue, we can say that this real estate that we are offering you represents an excellent investment. The calculation based on the annual income from the issue also supports this because it can be considered that the future buyer can count on a 10-year ROI.
Terms of Sale
This property is being sold for cash or in compensation with a property in Bar or the coast. If you are interested, we can arrange for you to watch it as well as complete support for the presentation. Count on us as true partners. The Pisco team works for you!