13 19. December, Podgorica, Montenegro
1,300€
Apartment 120m2, Podgorica
Apartment Location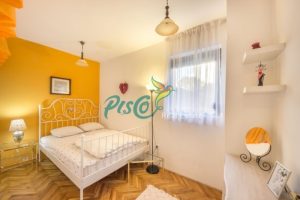 The apartment is located on a quiet street, the elite settlement "Gorica" in Podgorica. Access to the street is easy. There are various foreign embassies, so the place is completely safe and secure. There is also a villa "Gorica" nearby, as well as the residence of the Prime Minister of Montenegro. The apartment has two parking spaces secured. The apartment is within a three-story building, which is protected by a fence and a high wall. The whole neighborhood is natural, relaxed and with lots of greenery. There's also a beautiful 200m2 garden on two levels, with lots of greenery and a place to rest. Complete garden maintenance equipment is also available.
Internal rooms of the apartment
The apartment spans 120m2. The rooms are nicely connected and the space is well used and functional. The apartment has three bedrooms, a large living room with a garden exit, a spacious kitchen and a separate dining area. It is ideal for a larger family or for clients who want comfort. The kitchen has all the devices and provides all working conditions. Rooms are equipped with closets, bed linen and very pleasant. There are also two sanitary facilities, a bathroom and a guest toilet. Sound and thermal insulation is excellent and provides a feeling full of intimacy. The floors are made of quality wooden parquet flooring. Means of communication, internet, TV, phone are also available.
Equipment and maintenance of apartments
The apartment is equipped with all devices for a comfortable and comfortable life. The air conditioning is complete. Eco radiators are used for heating and the air conditioning system is used to cool the air conditioning system. Equipment for washing and maintenance is also available as well as small household appliances. The owners of the apartment are ready, at the request of the client, to provide more accessories if necessary. Maintenance of devices and systems is also secured. Hygiene maintenance can be provided for a fee.
Conditions for renting apartments
Issuance is for an extended period of time, year or more. More detailed contractual obligations are agreed with mutual consent. The usual contractual norms and conditions will be applicable. The price per month is 1300 euros.