Petar Miljanić, Podgorica, Montenegro
R E N T E D
2,500€ - Houses
A house can really have a soul
Introduction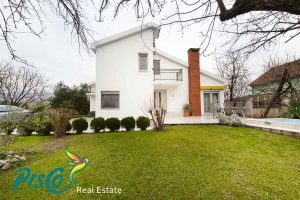 The first impression is very important in everything in life, including real estate. The house in which you will spend part of your life or your whole life is really important. My impression when I entered this space was enchanting, as if I had stepped into another country. Maybe the tenants are partially responsible for that, they probably are, but I was overwhelmed with positive emotion. From the outside it looks like any other house, inside it is something completely different. A huge space filled with things just enough to provide comfort and convenience but functional and casual. Perhaps the fact that the space was filled with carefully selected classical music made the moment even more beautiful. You generally feel relaxed and comfortable.
Location
Don't let the location of this house fool you. This place is neither fashionable nor prestigious, but that doesn't matter either, because the whole lot and house is a small oasis for itself. It is actually located in the Zagorič settlement. The house has 230m2 and is located on a plot of 800m2. The entire area is surrounded by a brick fence. There is a lot of grassy area, bushy vegetation and trees. There is also a small, idyllic house for garden tools. A smaller pool will also provide refreshment during the summer months. It represents the right place for vacation.
House – exterior and interior
Ground level
First floor
The first floor is reached by stairs leading from the living room. There are 5 bedrooms, including a room for a pet. In the middle of this space is a bathroom with a bathtub and a shower cabin. One of the bedrooms has an exit to a large, spacious terrace that is overgrown with plants and is equipped with deckchairs for resting. From this terrace there is a beautiful view of the interior of the yard, where there are perennial cherry and olive trees.
Apartment for guests
A separate apartment, which is entered from the outside, is separate and provided for guests. The apartment can accommodate 2-3 people. It has a bathroom and a separate kitchen.
Equipment
The building has central heating, underfloor heating, every room is air-conditioned. It is for rent furnished, but there is also the possibility of modification depending on the wishes of future tenants. Garden tools are available in full.
Notes:
It is possible to provide permanent service in the house, maintaining the hygiene of the house and yard, as well as other services at the request of the tenant. The contractual relationship will be defined depending on the wishes of future tenants.
Overall impression
We got a very positive impression where it is evident that they are serious and caring landlords, and the building itself is very nicely designed especially for the needs of embassies, diplomatic missions or for the stay of people who need a large multifunctional space for work and living. It is our special recommendation!