Radoja Dakića, Kruševac, Podgorica, Capital Podgorica, 81000, Montenegro
R E N T E D
230€ - Studio apartment
A beautiful studio apartment for rent in City Kvart 33m2
Location
The studio is located in the newest building of Čelebić in the City Kvart, a Podgorica neighborhood that has become the new city center. There are a lot of cafes, restaurants, boutiques, gyms, offices, surgeries, pharmacies. . Two malls Delta City and City Mall are five minutes away, while almost all colleges are ten minutes away.
Interior and design
This studio of 33m2 is very beautiful and spacious. It is equipped with quality items and complemented by a comfortable click-clack bearing that dissolves and ve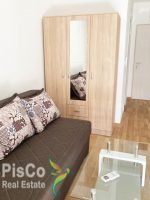 like a closet. There is also a chest of drawers for TV, and in the extension a small dining room. The kitchen has all the necessary elements and appliances. There is a washing machine and a bathtub in the bathroom. The garage is air conditioned and opens onto one balcony. The building has an elevator and intercom and there are plenty of free parking spaces in front.
Terms of issue
The apartment is for rent for a minimum of one year at the request of the owner, the deposit is mandatory and is in the amount of one month's rent. If you liked this property, contact us for more information.
Karakteristike