R E N T E D
500€ - Apartments
A nice two-room apartment for rent on Mali Brdo, 75 m2
Location
Lux 2.5-room apartment on the second floor (out of a total of 4) in a quiet part of town (Malo brdo) is for rent for a longer period. Oriented east-west with a view of the Gorica hill (view from the living room). Functionally and modernly furnished with an excellent layout and plenty of daylight.
Interior and design
The living room with guest bathroom is separate from the bedroom. It is equipped with built-in closets and a separate wardrobe. The heating is electric with installed economical French radiators that work on the principle of convection with graphite air filters. Air-conditioned with two air conditioners that provide a pleasant temperature in all rooms during the summer months. DOMIS external carpentry (aluminium-wood) with excellent heat and sound insulation. The apartment is equipped with an alarm with sensors for motion and pressure changes in each room, cable TV and high-speed Internet (200 / 25 Mbs). The building has its own parking lot that is not in the parking zone. The location itself, as well as the residential complex, is in an extremely quiet area, so it is also suitable for families with children. There is a fenced sports field in the immediate vicinity. Kindergarten, primary and secondary schools are also close by.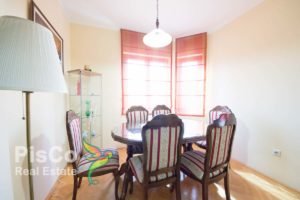 Internet, cable television, electricity, entrance maintenance and other utility costs are not included in the price. At the request of the lessee, minor changes are possible depending on the length of the lease.
Terms of release
The apartment is rented out for a longer period of time at the request of the owner, and when renting, it is mandatory to pay the first rent and a deposit in the amount of one month's rent. If you like this property, contact us for more information.