SOLD
100,000€ - Apartments
An apartment that is sure to get your attention
Location
The apartment is located in a building that overlooks the temple and faces southwest , so we can conclude that it is a bright and clear space. The apartment also has a nice balcony that you can enjoy all day long. The building is very modern, tidy and the security is high. What may be very important to you in your purchase decision is that this is one of the few buildings that is lined thermal bricks over the existing giter block, and of course over everything demit facade. 
Unutrašnjost  i dizajn interijera
We could write a lot about this property because it is even apparent at first glance that a lot of money has been invested in the renovation. We'll just give you some details like the expensive parquet of olives > , solid wood doors made by our famous Mi Rai workshop . The apartment is fully furnished , with very high quality furnishings, the air conditioning is complete and is taken care of by powerful fan coolers > which will save you money on heating and cooling. Indeed, there are also many details to be mentioned. What is also good to know is that it has secured parking . and an additional garage can be provided as needed. The apartment also has underfloor heating in case you need it.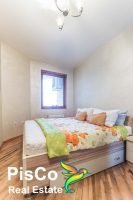 What we are sure is that you will feel very comfortable here , and the location can be said to be a real exclusive. We also believe that the price is right for what is being offered . The complete presentation was done by our team and you can see our other works in the gallery. 
Terms of purchase
The apartment is sold for cash and the price includes complete furniture with appliances. Also, art paintings would stay in the apartment. Our agency is trying to present every property as best it can, so if you like our work we can cooperate.