A luxurious apartment in the center of Budva with a sea view is for sale
Location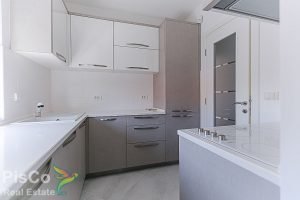 The apartment is located in the Rozino settlement, near the main institutions in Budva. The apartment has 121m2. The building has a building and use permit. The building is habitable . Across the street from the building, there is a city parking lot that is free of charge, and as for the parking lot in the building itself, information can be obtained from the client upon request, the price is negotiable. The distance from the sea is about 1000m . The building is located in a location that is well connected to all parts of the city, in the immediate vicinity of which there is a large number of retail stores, hair and beauty salons, gyms, bakeries, primary and secondary schools, as well as a large number of both smaller and larger super markets , grocers and fast food establishments.
The interior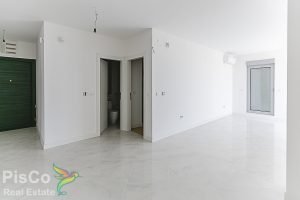 The building is made of the highest quality materials of the highest quality. It is a new construction . First class Italian ceramics . The apartment is equipped with a split system, fire alarm. The building has underfloor heating, and the building also has intercoms with a videophone. The rooms have first-class parquet floors and Italian tiles , also first-class. The bathrooms are equipped with Ariston boilers with two boilers. The apartments have built-in air conditioners. All apartments have blinds with electric lifters. The apartment consists of 3 bedrooms, living room with kitchen and dining room, 2 bathrooms, 2 entrance halls with a large corridor and 2 terraces with a beautiful view of the sea. In this apartment, the kitchen is equipped according to very modern standards with quality equipment.
Our opinion
We liked the fully furnished building with a superbly equipped kitchen and modern design. We were fascinated by the good and functional layout of the rooms , which are very well lit, as well as the good connection of the location with all parts of the city and important institutions in Budva. Therefore, we can conclude that this property will satisfy many tastes that you will enjoy.
Terms of Sale
Selling for cash. Price by agreement . Pisco Real Estate agency will be happy to show you this property or provide additional information if you like it. Contact our agent.