piscorealestate@gmail.com
SOLD
125,000€ - Apartments
Two bedroom apartment 75.52 m2 in a quiet location in Budva
Location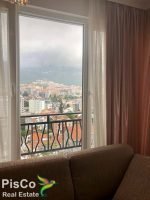 The apartment is located in a quiet location in Budva on the outskirts of the city on a hill overlooking the entire city, only 500m from the city center and 600m from the sea. The apartment, where the apartment is located is contemporary, modern and very luxurious near the highway. This location is very exceptional because during the year this place has a large number of sunny days. It is well connected with other parts of the city, and ideal for a family or for people who like quiet places, and if they like to go out, the city center is very close. The nearest airport is in Tivat, about a 20-minute drive away. In the immediate vicinity there are schools, kindergartens, sports facilities, hairdressers and beauty salons, as well as important institutions in Budva. Since the apartment is located on a hill during the summer season, you will have fresh air, and you will not have a feeling of heat.
Interior and exterior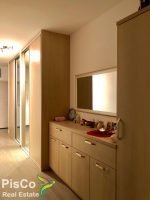 The apartment has 75.52 m2: 2 bedrooms, living room with dining area and kitchen, hallway, toilet, and a terrace overlooking the city. The building has a building permit and a use permit. The most modern standards and design are applied in the construction of the building. Very high quality elevators are installed in the building. Intercoms and video surveillance are also within the building. The building has underfloor heating. The bathroom has a built-in Ariston boiler, there is a whirlpool tub. Metal wrought iron fences have been made on the balconies. The apartment is sold with all furniture.
Our opinion
We are happy to recommend this apartment because it was built to the latest standards. We are amazed by the design that is designed to suit all generations and different lifestyles. We think that this is a very interesting project for those who like to live in quiet places, and at the same time, to have everything at hand nearby, and that, if they want to spend time, all city events are only 500m away from them. Therefore, we believe that this property will satisfy many tastes.
Terms of sale
Sold for cash. Pisco Real Estate agency will be happy to show you this property or provide additional information if you like it. Contact our agent.