March 8, Krusevac, Podgorica, Capital Podgorica, 81000, Montenegro
R E N T E D, Rent
210€ - Studio apartment
Beautiful Studio near the Krivi Bridge 34m2 for rent
Location
The apartment is located atkrivi bridge, in the building behind Caffe Club Amfora. This location is very attractive and convenient for life. In the immediate vicinity of the apartment, there is TC Delta City, as well as City Mall, and there is also KCCG, Atlas Kapital… Not far from here are the supermarkets Lakovic and Voli.
Interior and design
This is a large studio of 34m2, with a living room which is followed by a kitchen and dining room which are equipped with a beautiful dining table and elements and there is all the necessary equipment. There are also large closets as well as a shoe store in the hallway. There is a bathtub in the bathroom. The apartment is air conditioned and opens onto a balcony. There is a lot of parking around the building.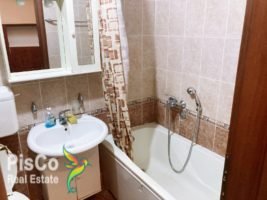 Terms of issue
Gardosnjera is issued for a minimum of one year at the request of the owner, a deposit is required and amounts to one monthly rent. If you liked this property, contact us for more information.
Karakteristike