Avda Medjedovica, Konik, Podgorica, Capital of Podgorica, 81108, Montenegro
R E N T E D
300€ - Business premises
Business space IDEAL FOR OFFICE 25m2
Location
The business space is located in a great location, near the cafe Intermezzo, in Avda Međedovića Street, across from Benex Fitness. This is a very good location for your office, boutique or store. . The street is very busy, this neighborhood has a lot of business premises and tenants so any business you open will surely be noticed.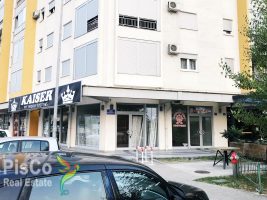 Interior and design
This business space of 25m2 consists of one large room and a small toilet. The floor is tiled. Everything is arranged, painted, just to move in.
IDEAL FOR THE OFFICE
Terms of issue
The apartment is for rent for a minimum of one year at the request of the owner, the deposit is mandatory and is in the amount of one month's rent. If you liked this property, contact us for more information.
Karakteristike