Bulevar Veljka Vlahovića, Konik, Podgorica, Capital of Podgorica, 81108, Montenegro
R E N T E D
280€ - Apartments
Excellently furnished one bedroom apartment in Stari Aerodrom 45m2 for rent
Location
The apartment is located on the boulevard Veljko Vlahovica, near the stadium Ribnica. This is a very quiet location, and nearby are supermarkets, cafes, pharmacy, health center, primary school. . The city center can be reached in less than 15 minutes.
Interior and design
This one-bedroom apartment of 45m2 is very nicely furnished, all stylish and tasteful. The living room is very spacious and pleasant, has a corner sofa and a chest of drawers with TV. In the extension is a separate kitchen with a bar, with two bar stools and all the necessary kitchen elements and appliances. The bedroom has a very comfortable and modern double bed as well as a large wardrobe. The bathroom is also nicely furnished and has lockers and a washing machine. The apartment is air-conditioned, opens onto a glazed terrace with a table and chairs, and the building has an elevator and intercom and plenty of parking in front.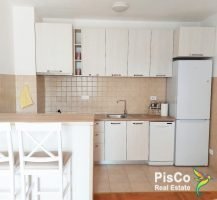 FOR SERIOUS TENANTS THERE IS A POSSIBILITY OF PRICE CORRECTION
Terms of issue
The apartment is for rent for a minimum of one year at the request of the owner, the deposit is mandatory and is in the amount of one month's rent. If you liked this property, contact us for more information.