SOLD
- Apartments, Houses, Land, Villas
EXCLUSIVE SPA & WELLNESS RESORT WITH UNOBSTRUCTED PANORAMIC SEA VIEW
Location, Interior and Exterior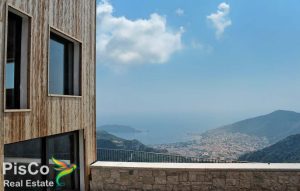 We are presenting a uniquely located, eco-friendly spa & wellness resort in the final phase of construction. Built on a unique location, 500m above sea level, the resort offers 180° panoramic sea views and natural air spa characteristics. Safely nested within the olive tree hills, the resort is just 10 minutes drive from Budva, a popular summer destination with sandy beaches, hidden coves and vibrant nightlife. This resort is located in beautiful village called Lapcici, which is considered to be one of the most attractive sites in Montenegro.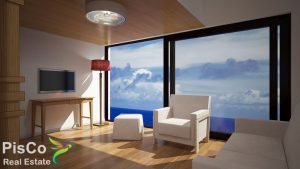 Complex is multifunctional. Gross parcel surface measure is 10.100m2. Gross complex surface measure is 6.177m2. Gross garage surface measure is 1284 m2. Additional facilities – 715m2, out of which technical rooms take 126m2, staff apartments – 126m2, facilities envisaged for sports activities – 463m2. This luxury complex consist of 22 apartments and 5 villas with beautiful sea view. This complex has its own electrical substation- (1000kwh). Electricity is not paid for the market price.  Resort also has permanent water-supply. There is also a wellspring in case of need. We have building permit for the whole complex. The complex is divided into four buildings. As this can be multipurpose facility investors intentionally did not complete works as it can be adjusted to serve various purposes. Progress for the works is estimated at eighty-five (85%) against the planned one hundred percent. By creating an interior design for a specific purpose, the project can be completed very quickly with minimal costs of modifying the original design or demolishing existing walls and changing the plan.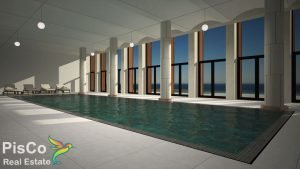 The resort is suitable for a variety of business uses: casino, medical center, assisted living/nursing facility, and similar. The resort features an eco-friendly construction – solar panels, water recycling, energy efficient, locally-sourced, natural materials. Units have unobstructed sea views and offer internal area customization flexibilities. Easily accessible, on the main road connecting Montenegro's capital Podgorica and Budva: 10-min drive to local beaches; 40-min drive to a golf driving range facility; Panoramic restaurant with a patio; Conference facilities and retail shops; SPA, wellness, infinity pools, gym; Designated children's area; Sport facilities – yoga, tennis. Conceptualized and developed by a reputable Montenegrin entrepreneur with solid track record in the construction industry.
Our opinion
Having in mind the place where this magnificent complex located, as well as facilities that are offered within the complex itself, we can conclude that Montenegro will get a unique, special and luxurious complex worth mentioning, and we are very proud of presenting this complex to you.
Uslovi prodaje
The price of the object and the dynamics of payment in agreement with the owner. Pisco Real Estate agency will be happy to show you this property or provide additional information if you like it. Contact our agent.