R E N T E D
200€ - Apartments

Very nice, comfortable apartment in Stara Varoš Apartments for rent Podgorica
Location
The apartment is located in Stara Varoš in a new house but this residential unit is completely separate. There is enough space for parking which is also fenced.
The apartment is semi-furnished, on two levels. It has two rooms, one large double room, and one also spacious children's room. The kitchen and living room are on the lower level, with a small terrace in front.
Everything in the apartment is new, and the bathroom is large and spacious. An ideal space for a family.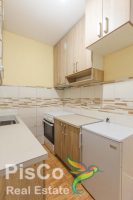 Terms of issue
The apartment is for rent for a minimum of one year, a deposit is required and is in the amount of one monthly rent. If you liked this property contact us for more information.
Karakteristike