Влада Ћетковића, Подгорица, Главни град Подгорица, 81101, Црна Гора
R E N T E D
400€ - Apartments
FOR RENT Nicely furnished three bedroom apartment in Block IX 99m2 + Garage space
Location
The apartment is located in a quiet and beautiful location, in the street Vlada Ćetkovićam in the so-called. military building. Nearby there are supermarkets, bakeries, cafes, kindergarten, primary school, Tološka forest with many recreational trails and devices, as well as TC Bazar, while TC Delta City and City Mall, as well as the City Kvart, are a 15-minute walk away.
Interior and design
This three-bedroom apartment of 99m2 is very nicely furnished, exudes warmth and comfort. The living room is very spacious and complemented by a large corner sofa and chest of drawers with TV, and there are shelves with books. The dining room with a large table and chairs is separated from the living room. The kitchen is fully equipped with all kitchen elements and appliances. As said, the apartment has three bedrooms. In one room there is a large double bed, a wardrobe as well as a TV on the wall; in the other room, there is a bed with a drawer, as well as a desk and a chair and a wardrobe. The third room has a bed, wardrobe, and wall cabinets. There is also a toilet and a bathroom with a shower and a washing machine. The apartment is air-conditioned and has one terrace and one storage room. The building has an elevator and intercom.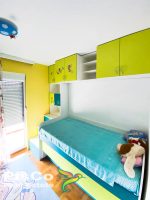 Garage space included in price.
Terms of issue
The apartment is for rent for a minimum of one year at the request of the owner, a deposit is required and is in the amount of one monthly rent. If you liked this property contact us for more information.