Unique house with stylish furniture for rent for a longer period

Location
The house is located near the boulevard "Vojislavljevic". The micro location of this property is really specific and unique. The street that leads to this property ends here, so you will have safe peace and exclusivity. The upper floors also offer beautiful views of the river and the surrounding landscape. The comfortable building is enclosed by a concrete fence over 3m high and additionally protected by special wire.
A large green courtyard surrounds the building and promises a pleasant stay outside. English grass is irrigated with a timed irrigation system. There is also a huge driveway and parking for at least 5 cars.
Enterior and design
The very exterior of the building instills confidence in the quality of construction and style. A large solid solid solid wood front door will welcome you. The entrance hall is beautiful and functional. In the residential part, on the ground floor there is a living room, dining room and kitchen. Also on the same level is a large closed and air-conditioned garage, which can accommodate a couple of cars and lots of little things.
The internal stairs lead to the upper rooms intended for rest. It has three bedrooms, a large bathroom, and a guest toilet on the lower level. In one of the rooms is a Finnish sauna. The large king size bedroom has its own private bathroom.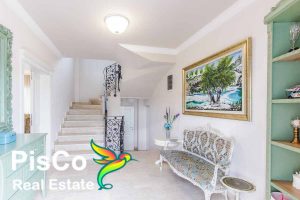 At the other end of the building on the upper level is a separate, large, 55 m2 guest apartment that offers beautiful views of the courtyards and the river.
Furniture
The complete furniture is new, with a refined rustic design, warm and delicate colors well matched to the ambiance. Massive drapes and curtains add privacy and further decorate the space. Here you will find lots of pieces of furniture from famous brands.
Equipment
The building is well insulated and air-conditioned with split heating and cooling. According to the owner, the electricity bill in the coldest months did not exceed 150e for the complete construction.
Terms of sale
This property is for rent for a long period of time. The owner agrees to adapt the contents to the future tenants as needed, and therefore, if they so wish, an outdoor large swimming pool can be added as well. facilities. Feel free to contact us. [Maxbutton id = "20"]
[wpforms id="1828″]