SOLD
284,258€ - Apartments
Lux Penthouse in Bečići 98,02m2
Location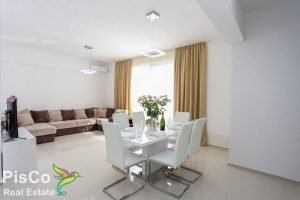 The apartments are located within the beautiful complex in Becici . The new private residential complex offers you luxury apartments with a beautiful view of both the city and the sea. Enjoy a morning cup of coffee on your terrace with a fantastic view of the bay of Becici, the untouched Adriatic Sea and the legendary island Saint Stephen.
It is close to the Splendid Hotel and the Duckley Gardens complex. There is an indescribable atmosphere of peace and tranquility here where the mild Mediterranean climate is combined with fresh air coming from the mountains. Becici is known for its spacious, wide, sandy and pebble beaches for real enjoyment from where there is a beautiful view of the open sea. The building has a building and use permit, the apartments are ready to move in immediately. There are several markets nearby, and the center of Budva is just a few kilometers easy walk away.
Interior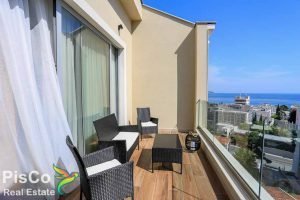 The penthouse is extremely luxurious of 98.02 m2 with a beautiful view of the sea and the city. The interior gives you the comfort of a beautiful, peaceful and comfortable life. High-quality materials of modern technology and modern design were used in the construction. The facility is positioned so you can enjoy a combined view of the sea and mountains.
The proximity of the mountains brings you extremely pleasant and fresh air in summer and in winter you can also enjoy looking at the snow-capped mountains on one side and in the other in the beautiful view of the open sea and the village in front of you. All apartments are equipped with air conditioning, video surveillance, top quality furniture which is charged from 5,000e to 7,000e depending on the size of the apartment. Kitchen equipment comes as part of the price of the apartment. The purchase of a garage space is 15,000.00 e All apartments are ready to move in.
Our opinion
We are fascinated by the location and arrangement of the building and its surroundings, as well as the exceptional spaciousness and functionality of the rooms, which are extremely well lit. The location is extremely quiet and perfect for a comfortable life. If you want an exceptional time, you can find it in Budva, which is only four kilometers from this place. Therefore, we believe that this property will satisfy many tastes.
Terms of sale
Sold for cash. A representative of the Pisco Real Estate Agency will be happy to show you this property or provide additional information if you like it. Contact our agent.