R E N T E D
1,700€ - Apartments
Lux three-bedroom apartment 110m2 + garage in zeta-building building near Palada
Location
The location is truly amazing, it's a building of son-in-law construction that has a Demit façade and is newer to build. The building is so positioned that it looks straight at the Moraca River, and the view from the apartment is right on the river. In your building you have absolutely everything you need from cafés, idea markets, to bookmakers, bookstores …
Interior and design
The apartment is beautifully furnished with a large living room with beautiful set and plasma TV from the living room, with an exit to a beautiful terrace overlooking the roundabout at the palada and Moraca. The nearest living room is a dining area with a table with chairs, and there is a kitchen that is completely insulated, which is a huge advantage while you cook.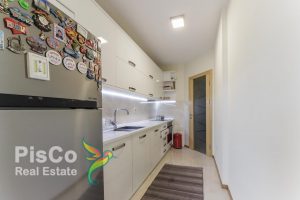 The kitchen has an exit to the hallway on one side and into the dining room on the other, the kitchen has all the kitchen elements and white technique. A huge corridor escorts you to other rooms such as 3 bathrooms and 3 bedrooms. The master bedroom has a huge double bed, plasma TV, closet and private balcony exit. The other two bedrooms are child-style, one for boys and the other for girls. The bathrooms are really spacious and large and each bathroom has huge showers as well as washing and drying machines.
Terms of issue
The apartment is rented for a minimum of one year at the request of the owner, at the very rent it is mandatory to sign the contract for a minimum of one year and of course a deposit amounting to one month's rent. If you liked this property, the Pisco team is there to present it to you in the best possible way.