piscorealestae@gmail.com
Rent
3,000€ - Houses, Villas
Luxury Villa With 2000m2 Garden For Rent
Location
This magnificent building is located on a 2000m2 lot, decorated in American style . The wide entrance gate to the remote opening lets you inland through a paved driveway that also represents huge parking and leads you to a three-storey villa located in the corner of this property. The whole area is enclosed by a tall concrete fence , which is both green and nicely integrated. The lawn is well maintained , with an irrigated timer, and the beautiful palm trees remind you of the Mediterranean. The grandeur of this facility and property is obvious.
Enterior and design
Ground level
We enter via a large porch, which is covered and equipped with a outdoor seating area and rest, into a large entrance hall , from which you can already conclude that space and comfort were taken into account. This building has three floors , two of which are currently available to you. The ground floor has exits on three sides, there are large vaulted balconies, drowned in greenery and bamboos , large living room with smaller lounge in extension, which can serve as a dining room and as a separate lounge. The kitchen and dining room are in the extension, the large bathroom, the guest toilet and the bedrooms.
First floor
What caught our eye is the beautiful solid wood joinery , which looks massive and durable, which also gives this space a touch of elegance and aristocracy. Floors are a combination of wood and quality ceramics and marble .
Upstairs, you will be led to stairs with stainless steel handrails and forged railings . The upper floor also has a huge living room with an entrance hall, other utility rooms and in the second part of this level there are bedrooms with a bathroom which promises good relaxation. There are also large spacious bedrooms with 7 in total . The furniture that accompanies this interior is massive, comfortable with a calm design.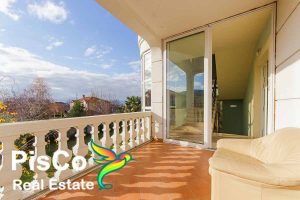 Takodje tu su i radne sobe  sa namještajem prilagodjenim za tu namjenu.
On this level there is a large terrace with a view of the property and the green area. It is facing southwest so it will not be scarce in the sun.
Equipment
Given that the future tenants of this building will certainly prefer peace and security, alarm and video security systems have been put in place for enhanced security. The complete building is also equipped with central heating and air conditioning units are used for cooling during the summer months.
Terms of sale
This property is for rent for a long period of time, minimum one year or more, with standard agency conditions. Our agency has the right to represent you when renting this valuable property, so we will be glad to meet you and make a presentation. Contact us for more information. [Maxbutton id = "20"]
PisCo Real Estate is an agency that strives to present your property in the best way using all the multimedia tools available.
In case you also have a property for sale or rent, you can offer us advertising through this simple form [wpforms id="1828″]