Luxury two-storey house 170m2 in Tološi for sale
Location
The house is located in a quiet environment that is mostly inhabited by houses, near the nursery Ekoplant. It is 10 minutes away from the city center, and also the closest parts of the city are City Quarter, Blok (5,6,7,9), Gornja and Donja Gorica, Zabjelo … Just a few minutes from your quiet corner, you have a market that is always welcome, and at the same time it is along the way.
Interior and design
How modern and beautifully equipped this house is can be seen at the very entrance to the house, where there is a hallway lit by a large window, and with several decorative items. From the hallway you enter the spacious living room, which is tastefully arranged and exudes comfort and warmth. The house is not fully equipped as you can see in the pictures, but it is sold with all the things that are in it. The living room has a large set with smart TV and exit to the balcony, and there is a dining table with chairs and a kitchen that has all the kitchen elements as well as appliances. The white goods in the kitchen are completely new and have a warranty (dishwasher, newer refrigerator, stove with aspirator, as well as microwave). From the dining area, you also have a sliding door that has an exit to the yard and we can say that this is extremely important because when cooking, all the smells of food come out.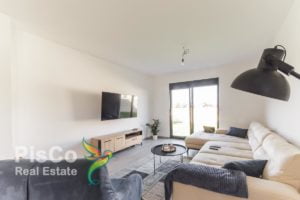 In addition to the living room on the lower floor, there is one room that we did not photograph because it was used for storing things, but it could be transformed into a bedroom. We also have another room left on the lower floor, and it was used as a guest toilet so guests will not have to go upstairs to the bathroom, and this is ideal because they also preserve your privacy. Upstairs there is a huge hallway that leads you to the bedrooms as well as the bathroom. All three bedrooms are identical, the only difference is the size and equipment. One room is fully equipped and it is a master bedroom, which has a large double bed and a closet for storing your belongings and also an exit to a beautiful balcony that has a view of the front of the house. The second bedroom was used as a training room, while the last bedroom is completely unfurnished and has access to a balcony overlooking the side of the house. We must mention that the house is completely fenced with a concrete fence and that new green grass has been planted, which is in the process of growing. The house has absolutely everything you need for life as well as a motor gate for your car, and a smaller gate with intercom.
Terms of Sale
The house is sold for cash at the request of the owner, and if you liked this property, contact us for more information.