SOLD
262,490€ - Apartments
A unique luxury complex in Bečići
Location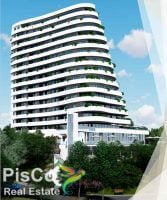 The village is much quieter than Budva, but you can reach the center of modern infrastructure on foot, if you want, the distance is about two kilometers through a picturesque area. The picturesque beach of the Budva Riviera – "Golden Pearl" is considered one of the most picturesque resorts in the world. Soft sand and a gentle descent into the sea, fresh wind and soft sun, water park and restaurants – some of the best on the coast. You have only 100m to the beach. This unique Resort is a residential complex on the shores of the Budva Riviera, and its location allows you to enjoy the beauties of Montenegro. Two minutes walk from the pristine and award-winning coastline Blue flag – an international award given only to the largest, safest and most comfortable beaches and marinas. About two kilometers away is the famous Old Town of Budva – the tourist center of the country, where ancient architecture and modern entertainment intertwine: street theaters and restaurants, shops and nightclubs. The resort's apartments offer magnificent views of the mountains and the Sveti Stefan peninsula, which flicker with enchanting lights overnight.
Interior and design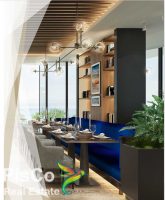 It consists of 143 apartments on 14 floors, which tower over the azure coast of the Adriatic. It is a real home for you and your family – a place for rest of your partners and domestic and foreign tourists. Comfortable conditions have been created here for both everyday life and business. Two swimming pools for adults (indoor and outdoor) and a swimming pool for small children; Gym; Spa center; Thalassotherapy and Detoxification Clinic; Park; Children's playground with video surveillance; Restaurant and lobby bar; conference room; concierge service available 24/7; Personal transport services, car rental, laundry services, apartment maintenance, property management and rental services, three levels of garages.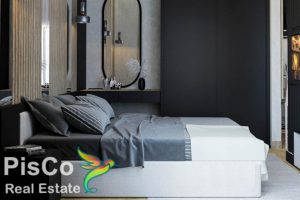 Resort apartments are a dream come true for connoisseurs of open space, sun and air. The interiors are equipped with lighting, plumbing and other equipment from leading European manufacturers: Grohe, Villeroy & Boch, etc. The parquet is made of natural oak. The bathroom is tiled with Italian ceramic tiles. The windows are equipped with energy-efficient UV glass to avoid overheating the apartments and to enjoy the beautiful views. It is a homely, pleasant and at the same time luxurious place to live and relax, as if you were in a 5-star hotel. Ready to move in by July 2021.
Our opinion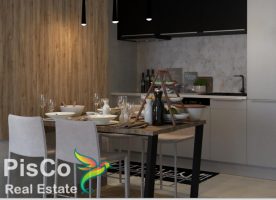 We are very pleased with this Resort because it is a complex built with high quality materials. It is a complex located in Bečići on the main highway, and is a 2-minute walk to Bečići beach. The complex is 2-3 km away from the center of Budva. What adorns this complex is the phenomenal view of the sea, hills and mountains. In addition, in the complex itself you can enjoy a variety of additional facilities for both adults and your children. Therefore, we believe that this investment will be very interesting to you and will satisfy your tastes.
Terms of sale
Sold for cash. The price includes the following: Finished interior works, shower systems and Grohe shower set, Villeroi & Boch wall-mounted toilet, sink set with mirror, parquet (natural oak). Air conditioning in each room and underfloor heating system in the bathroom. Note: See all prices and available apartments in the image gallery at the top of the page. Pisco Real Estate agent will be happy to give you any additional information about prices and real estate on request.