July 13, Podgorica, Capital Podgorica, 81101, Montenegro
R E N T E D
300€ - Apartments

OFFICE – business space for rent Preko Morače 25m2
Location
The business space is located in the Čelebić building in the Podgorica settlement of Preko Morače. This is a very good location, because it is close to the school, the Basic Court, the Millennium, numerous other offices, supermarkets, cafes, restaurants, three faculties – the Faculty of Economics, the Faculty of Law and the Faculty of Political Science.
Interior and design
Business space of 29m2 is fully equipped and renovated for the office. Large office desks and chairs have been installed, built-in closets, it is air conditioned and has one bathroom and a storage room.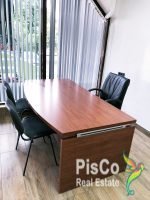 Terms of issue
The space is rented for a minimum of one year, a deposit is required and is in the amount of one monthly rent. If you liked this property, contact us for more information.
Karakteristike