One bedroom apartment in a prime location in Kotor
Location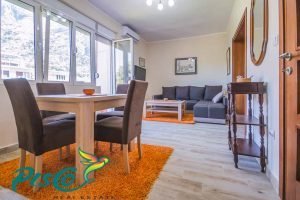 The apartment is located next to the Basic Court in Kotor, 100m from the old town, 150m from Kamelia and the beach is 300m away. The building is across from the city park, and the apartment is on the second floor. Simply put, there is no better location in Kotor than this one .
The building does not have an elevator, but that's why, and more importantly, it has a private parking lot in the courtyard of the building.
Interior
The structure of the apartment is one-room. It is spacious and functional, with two terraces , one of which overlooks the sea and Port of Kotor, and the other overlooks the yard and mountains.
The apartment has 48 square meters, and with two terraces, the square footage increases to 59 m 2 .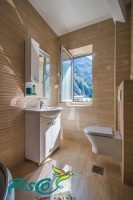 Although the building is older, the entire apartment has been renovated . The living room and dining room form one functional unit and are connected to the kitchen through an arch-shaped opening. The kitchen has a linear layout with new white appliances . The bedroom is more than spacious, and it also has a large wardrobe . It is currently equipped with a double bed, but if necessary, another bed can be added to this room, and the room still leaves a comfortable space for communication. If we also add that the couch in the living room can be extended into a large bed, we come to the conclusion that this one-room apartment is also suitable for a family with children .
The bathroom is also perfectly renovated and equipped.
Terms of release
In order to afford this apartment in this location, you need 500 euros per month, plus an additional amount for utilities. Entrance maintenance costs 5 euros per month. The apartment is rented out for a long time and there is room for possible price correction for those who see themselves here for a longer period.
If you want to know more about this apartment or see it, please feel free to contact our agent.
Karakteristike