R E N T E D
320€ - Apartments
A large one bedroom apartment for rent in City Quarter near caffe Sicilija 50m2
Location
The apartment is located in the Maša Đurović Street near the cafe Sicily, in the new building of Cijevna Commerce, and is lined with demit facade. This is one of the good locations in the City Kvart since it is surrounded by many cafes, markets, bookstores, taxi stations, fast food restaurants.. Only 2 minutes walk from your apartment are two shopping centers Delta City and City Mall.
Interior and Design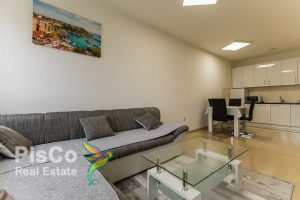 The apartment is well equipped has a large living room, dining table with chairs and a kitchen with all kitchen elements. There is also a bedroom that has a large double bed and a closet, a bathroom that is well equipped with all the necessary things. We must mention that we have two exits to the balcony, one from the bedroom, the other from the living room.
Terms of issue
The apartment is rented for a minimum of one year at the request of the owner, and must be in give a deposit at the very beginning (the deposit is in the amount of one monthly rent) and rent. It is mandatory to sign the contract for a minimum of one year and you can pick up the keys immediately after signing the contract. If you liked this property, contact us for more information.