piscorealestate@gmail.com
SOLD
2,000€ m2 - Apartments, Business premises
Business-residential project, Tivat – SEARS residences
Location
Seljanovo is perhaps the most popular settlement in Tivat. Certainly because of all the proximity to the center, Porto Montenegro, city beaches, but also because of the accessibility of all necessary facilities such as supermarkets, bakeries, pharmacies, restaurants, promenades, schools and the like.
It is in such a settlement, along the main highway, that a unique project is being built – SEARS Residences.  By air the facility is 300m away from the sea, and from the exclusive resort and marina Porto Montenegro, only 500m.
Exterior
The building consists of three lamellas, with a total area of ​​13,330 m2. Purpose wise, the building consists of 3 units: a residential part, business premises and a green market. All three units are designed so that they can function independently. The building also has an underground parking garage, with a capacity of 122 spaces.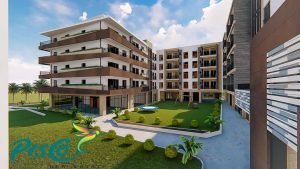 A garage space can be purchased at a price of € 12,000.
The green market is a separate functional unit.
Each lamella, in addition to the stairs, also contains an elevator.
The ground floor of the building is intersected by gates, which enables easier and more efficient functioning of the building, both by itself and its functioning with the environment.
Business space 
Business premises are designed on the ground floor and are divided into units of 52 – 112m2. There is a possibility of merging some of these units in order to obtain more business space.
Living space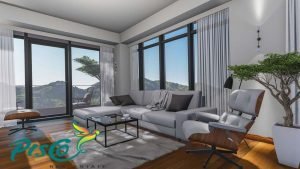 SEARS contains studios, which are an excellent type of investment, one-bedroom and two-bedroom apartments, ideal for starting a family life, but also larger luxury housing units.
SEARS contains 98 housing units, of which:
• studios have an area of 29.9 – 38m2;
• one bedroom apartments are the size of 44.4 – 57m2;
• two-bedroom apartments of 67.5 – 73.4 m2, doc
• three-bedroom apartments have an area of 66.7 – 100.5 m2.
Our opinion 
If you are looking for an investment opportunity for tourism in Tivat, this facility will perfectly meet your requirements. The location and functionality of the apartments make the project ideal for family life. The price under construction is reasonable, given the development of the real estate market in Tivat. Simply, an opportunity you definitely need to consider.
Contact our agent for more information about the project. Let us help you find what you are looking for.
Karakteristike