vukice mitrović
R E N T E D
600€ - Apartments
Long-term three-bedroom apartment for rent
Location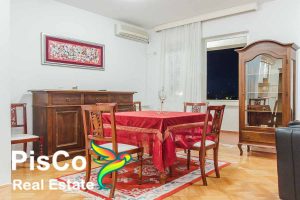 Long-term apartment for rent for a longer periodThe apartment is located in ul. Vukice Mitrovic, who is also known as the Place of Duplicate Missions and Consulates. The apartment is located in a smaller building that has secured parking . This apartment has one parking space. The apartment is facing north-east, south-west, so you will have enough light during the day. Also, two large terraces will make your stay more enjoyable, especially since the surrounding area is well landscaped. The building has no elevator and this property is located on the second floor.
Enterior and design
The apartment is three bedroom , done in a classic style and with solid wood and leather furniture. The bedrooms are separated by a separate corridor and have a separate bathroom. There is also a guest toilet. the kitchen is a very nice fit and fully equipped with all the kitchen elements. The dining room is spacious , with a table that can be folded out and can accommodate up to 6 people.
The apartment has central heating and electricity is provided during the summer months. All in all very comfortable, spacious, quiet and very comfortable since the apartment has over 90m2. There are plenty of places for dressing rooms and other little things. The owner is ready to make certain changes at the request of the tenant.
Terms of Issue
It is issued for a period of at least one year , subject to standard agency terms. If you like the apartment you can contact us.
[maxbutton id="24″ ]