Atinska Ulica
Sell
185,000€ - Apartments
Three Bedroom Lux Gorica C – Prestige and comfort in one place
Location
The apartment is located at Atinska Gorica C which is well known as Embassy Street and is considered to be a quiet, safe and elegant place. The building is located on the slopes of Gorica Hill, from which provides a beautiful view of the city . The construction is very high quality, low floors, only 3 floors, so the building and no elevator . The entrance and driveway are well kept and tidy. In front is parking for tenants .
Interior and design
Already from the front door that is blind, you get the impression of the quality of workmanship, as well as the materials used to furnish this property. Furniture is also something that catches your eye. The minimalist design, with the right choice of things in the right place, makes this space even more interesting.
Lighting is very discreet and cozy, with large ceiling led panels that both save electricity and make this space warmer. The heating was designed as a floor , and installed throughout the apartment. The kitchen elements are also of high quality and branded.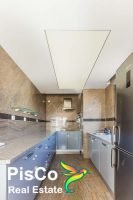 However, what fascinated us, despite the high quality of furnishings and furniture, is a couple of nooks to rest and enjoy this property, these being two beautiful balconies and of course a separate wardrobe and a large master bedroom bathroom room . We would still have a lot to list in terms of equipment and comfort, and therefore we can conclude that this is an exclusive property that will satisfy many tastes.
Feel free to contact us and advise on this property, we will provide you with all the tips and details that can help you make a purchase decision. [maxbutton id="21″ ]
Terms of sale
The apartment is being sold for cash, but interesting real estate deals would also come into play. Our agency has done a complete treatment of this property so if you like our work, like our site or you may be considering offering us your property to advertising .
[wpforms id="1828″]