SOLD
172,550€ - Apartments
Two bedroom apartment in a beautiful complex in Bečići
Location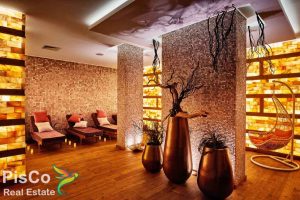 The apartments are located within a beautiful complex on a gentle hill with a beautiful sea and mountain view in Bečići. New private residential complex offers you luxury apartments with panoramic sea view and top quality apartments with one, two or three bedrooms ranging in size from 51 to 430 m2. Enjoy a morning cup of coffee on your terrace with a fantastic view of the bay of Bečići, the untouched Adriatic Sea and the legendary island of Sveti Stefan. It is located near the highway and is 300 meters from the beach. There is an indescribable atmosphere of peace and tranquility here where the mild Mediterranean climate is combined with fresh air coming from the mountains. Bečići is known for its spacious, wide, sandy and pebble beaches for real enjoyment from where there is a beautiful view of the open sea. The building has a building and use permit, the apartments are ready to move in immediately. There are several markets nearby, and the center of Budva is just a few kilometers easy walk away.
Interior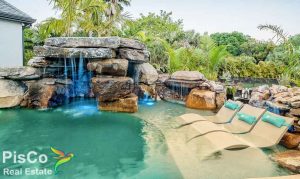 The apartment has 85m2 with great view. The interior gives you the comfort of a beautiful, peaceful and comfortable life. High-quality materials of modern technologies and modern design were used in the construction. The facility is positioned so you can enjoy a combined view of the sea and mountains. The proximity of the mountains brings you extremely pleasant and fresh air in summer and in winter you can also enjoy looking at the mountains covered with snow on one side and on the other in the beautiful view of the open sea and the village in front of you. All apartments are equipped with air conditioning, video surveillance and security. All apartments / flats are habitable.
All customers can enjoy additional facilities:
– 2 private independent pools
– 1 heated pool
– water cave
– 75m2 bar within the pool
– 83m2 fitness studio
– 138 m2 Spa Center
– Jacuzzi in the spa for 10 people
– Sauna
– hammam / steam bath
– Turkish bath
– massage room
– relaxation room
– children's playroom
– 24-hour front desk
– entertainment room (billiard room, etc.)
– shuttle service / transport to the beach and airport
– laundry service
– possibility of individual plan
– seating area with outdoor fireplace
– complete video surveillance of the entire building, optionally in the apartment
– security / porter 24 hours
– yacht and car rental
– vip service
– closed parking spaces / garages with video surveillance
– professional company for maintenance of the facility.
Our opinion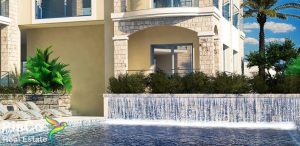 We are fascinated by the location and arrangement of the building and its surroundings, as well as the exceptional spaciousness and functionality of the rooms, which are extremely well lit. What thrilled us was the large number of additional facilities that make this complex very attractive for both customers and locals. The residential complex gives you everything in one place, so you have the feeling that they are in a luxury resort, which is the goal of creating this facility. The location is extremely quiet and perfect for a comfortable life. If you want an exceptional time, you can find it in Budva, which is only four kilometers from this place. Therefore, we believe that this property will satisfy many tastes.
Terms of sale
Sold for cash. A representative of the Pisco Real Estate Agency will be happy to show you this property or provide additional information if you like it. Contact our agent.