SOLD
439,020€ - Apartments
Two-bedroom apartment with sea and the Old Town view
Location and interior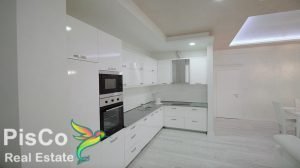 The building is located in an excellent location near the shopping center Tq Plaza, within the large project Porto Budva. Close to supermarkets and green markets, cafes, restaurants, beaches and the Old Town as well as all important city institutions. The apartments have excellent investment potential, daily rent, including summer and winter seasons. They enable a return on investment of 10% per annum! Customers are provided with maintenance, cleaning, management, rental and resale services. Today, Montenegro is one of the countries with the most dynamic development, a candidate for joining the European Union, a leader in the Balkans in foreign investment.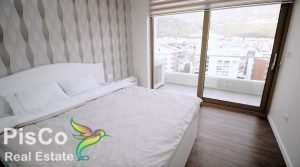 Rooms: Suspended ceilings, lighting, wallpaper, underfloor heating, first class oak parquet; Bathroom: Sanitary ware: Villeroy & Boch (shower cabin or bathtub), marble, natural granite company "Travirtini", mosaic tiles made of Murano glass, company "Valentino", underfloor heating; Facade: natural white granite "Travertini", three-layer panoramic glass. Two bedroom apartment, 84.11 m2 + 8.53 m2 terrace (total: 92.64 m2), with a spacious living room, two bedrooms, one bathroom, hallway and laundry, spacious terraces and a central view of the sea and the Old Town.
Our opinion
We liked the way the apartment was decorated, the location, as well as the good price for sale with top quality materials and design. Also, the location is very tempting with a phenomenal view. The apartments are located in the heart of the city, only 20m from the sea within the amazing complex of Porto Budva. He was fascinated by the good and functional layout of the rooms, which are very well lit. Therefore, we can conclude that this property will satisfy many tastes that you will enjoy.
Terms of sale
Sold for cash. The prices of all apartments include the arrangement of premium class interiors according to the "turnkey" system! In relation to how much money you invest in the start after signing the contract, you get the possibility of a bigger discount and lower prices!
Apartment price:
50% per contract, 50% per rate – 439,020 euros
70% under the contract, 30% at the rate – 429,756 euros
90% per contract, 10% at the rate – 420,550 euros
Pisco Real Estate will be happy to show you this property or provide additional information if it is proven to you. Contact our agent.