Compensation
180,000€ - Houses
For sale is a large house of 180m2 with 8000m2 of plot in Zeta near Podgorica
Location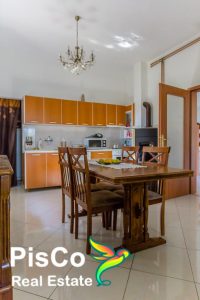 This property is located near the main road leading from Podgorica towards Golubovci. The house is located on a property of 8000m2. The approach is very good and wide. Land is of high quality and arable. A large vineyard of 500 roots is planted, and there are various fruit trees. In this vast area there is space for investing, for another huge vineyard, or for planting cherry, or something similar. Land is very fertile. This is supported by the fact that the property has two wells, from which water is drawn even during dry summers. In one part of the property, a drop-by-drop system is installed.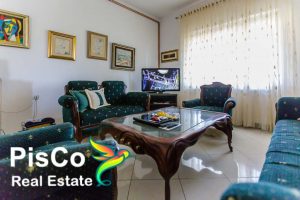 The entire property is protected by a fence, so you can't be disturbed. The entire area is very calm anyways. Although you have a feeling that you are in a rural area, thanks to a modern road, you arrive in the city in only 10 minutes. The airport is only a few kilometers away. Also, if you want to go to the sea, this is a much shorter destination than living in the city. There is also an ancillary facility on the property, which serves as an amber, and for putting down mechanization. What dominates this area is peace, since the nearest house is at least 300m away.
House and its interior
The house is spacious, two years ago completely renovated. It consists of ground floor and one floor. Below is a large living room, hallway, bathroom and kitchen with a dining room. In front there is a large covered porch. The house is externally covered with demit facade, and a pvc locks are also installed. The roof is also renovated and modern hydro insulation is installed. The floors in the ground floor are ceramics, and modern pellet heating is also installed. The radiators are placed throughout the house.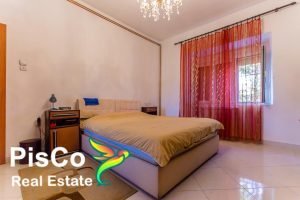 The floor is divided into three bedrooms and an extra bathroom. There is also a room for a running machine in the hall. This part is also very spacious and comfortable. Our impression is that you don't have to invest a single euro in this house.
Conditions of Sale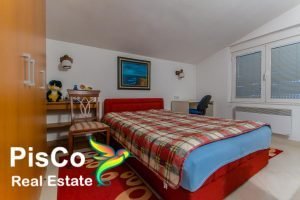 The house is offered for cash, but one type of compensation for a smaller real estate is also considered for an extra charge. If all of this interests, feel free to contact us. We will be at your service, and gladly present this property to you.
If you also have a real estate for sale or rent [maxbutton id="1″ ]
Karakteristike