R E N T E D
1,500€ - Houses
A large renovated house with excellent price and quality ratio is for rent
Location
The house is only 1000 meters away from the shopping center "Delta" and City Kvart. It is located in a street that abounds in green areas and is easily accessible to all major roads. The house is enclosed from all sides with the fence, and a large parking space and space in front of the house are standing out. From the outside it looks very nice, it's on two floors, with interior stairs. The entire approach is made of quality stone, and the house is located on a plot of 6000m2 with a beautiful olive grove, so if you like nature here you will surely enjoy. The exterior was laid out by a thick demit facade so that in the months with bad weather you could have full comfort. When you stop in front of the house you notice a large entrance with an entrance hall which makes this property even more marvelous.
Interior
The first impression is that all furniture and materials used in the furnishing of this property are of high quality and without signs of use. Also, the impression is that everything is neat and clean, it simply radiates cleanness. The lower floor contains a large living room, a laundry room, an entrance hall, a bathroom and a kitchen with a dining room. Here you can find everything you need for a longer and pleasant stay. On the upper floor there are 3 bedrooms and one work room with two bathrooms.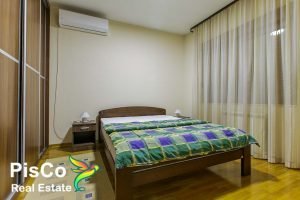 Also on the upper floor you can enjoy in the large terrace with a beautiful view of the olive grove and courtyard. This is really a building that stands out. All rooms have central heating on the pellet and the electricity of your choice, and all the interior walls are covered with additional insulation, rigips plates. Really unusual. As far as cooling is concerned, there are several air conditioners for it. We will note that there are more than enough openings so all rooms will have a lot of light. The house is facing the south-east as well as all the rooms that the house contains. We must put this house as our warm recommendation.
Conditions
The house is for rental to serious tenants for a period of at least one year, with standard agency conditions. We will gladly present this property to you at your request. [Maxbutton id = "9"]
[mc4wp_form id="2143″]