SOLD
345,000€ - Garage, Houses, Villas
Exclusive villa in Bečići
Location and interior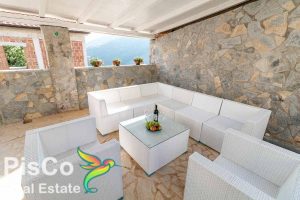 Unique and prestigious villa in Bečići, a beautiful part of the Budva Riviera. A work of art in the full sense, with an exceptional view of the sea from all levels, enriched with Mediterranean nature, in a very well protected environment and in an environment of complete privacy and luxury. The villa is comfortably positioned close to all important points on the coast – the city of Budva, Petrovac, Tivat airport, ferry port and railway connections to the mainland in Bar. The best beaches of the Budva Riviera nearby. The investment company "WesternTop" GmbH has been on the market for 10 years and has extensive experience in the professional construction of facilities in Germany and Montenegro. One of such facilities is the villa "Arvala Balkan Classic", which we propose for sale. The facility is located in Bečići in a quiet place, within walking distance of a large and beautiful beach. Total area of ​​450m2. The property includes a fenced, well-maintained area with fertile citrus trees and old olive trees; Two-storey villa with a total area of ​​215m2, built using quality and environmentally friendly materials such as natural stone, tile and wood. It consists of: three bedrooms, kitchen, living room, three toilets and a room that can be made as the customer wants (cabinet, wardrobe); Terraces with beautiful sea and mountain views. Skimmer pool 3×6 m, depth 1.5 m; Rest area / barbecue size 30m2; Personal parking with electric gate for two cars; Water floor cooling system. Possibility for a stable annual income (around 30,000e) when renting a given facility. The building was intentionally stopped during the construction phase without finishing. After the purchase, the owner received a basic interior decoration according to the project of a professional design studio (doors, floors, walls) and the opportunity to choose colors for that treatment.
Our opinion
We believe that the villa is located in a very good location and that the connection with Budva and other cities is excellent. It is a quieter part of the coast. It is a very luxurious villa in Becici with a beautiful view. Therefore, we can conclude that this property will satisfy many tastes.
Terms of sale
Selling for cash, payment can also be made in installments. Possibility to agree on the price. Pisco Real Estate agency will be happy to show you this property or provide additional information if you like it. Contact our agent.