One bedroom apartment for rent in the center of Podgorica 40m2
Location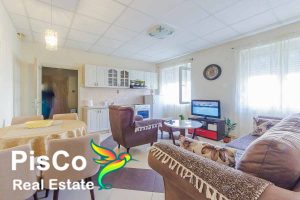 The apartment is in the best location in the city, definitely, as soon as you leave the building, head to the center . In the area you have everything you need from sports shops , markets , boutiques , cafes , shoemakers  and walking places such as Gorica  …. The old building is in question but all the buildings in the center are older construction however they are of the highest quality and the most important thing that highlights this apartment is the location.
Interior and design
The apartment is completely renovated and is well equipped and has a smaller living room that is connected to the kitchen. The kitchen has all the kitchen elements and in such a small space everything is nicely decorated to make you feel comfortable. The largest room in this apartment is a bedroom that is quite large and has a large double bed and closet . From the bedroom you have access to a very spacious terrace. Of course, we should first of all mention that the apartment has a bathroom which is very nicely decorated and also renovated.
Terms of issuance
The apartment is rented for a minimum of one year, at the request of the owner. If you liked this property please contact us for more information.
Karakteristike