Casa Al Mare in a luxury complex in Bečići
Location and interior
The residence is located near the highway. There is an indescribable atmosphere of peace and tranquility here, where the mild Mediterranean climate is combined with fresh air coming from the mountains. The beach in Bečići and Rafailovići is very spacious, sandy and pebble created for real enjoyment from where there is a beautiful view of the open sea. The building has a building and use permit. There are several markets nearby. Budva is 5-6km away, and the nearest airport is in Tivat.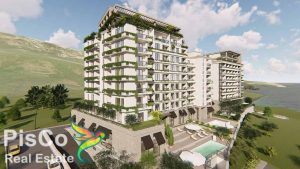 "Casa al Mare" Residence is a luxury complex that is being built on the shores of Bečići beach, one of the most beautiful on the Montenegrin coast. Only 10 minutes from Budva. The complex has a large outdoor pool, secured parking space, active alarm-surveillance system and maintenance service. In this way, guests feel at home, living everyday life in the place where they stay. This helps them to fit in more easily and feel the local culture and lifestyle. These luxury apartments, in addition to top design and high quality materials from reputable manufacturers used in construction, offer a combination of hotel and private accommodation to get the best of both types. Consider that buying an apartment like this in Apart hotel Residence is an excellent business investment, because this complex already offers a complete service and thus allows you a faster return on investment through the rental process. In the immediate vicinity you can find a supermarket, market, restaurants with the best food. Distance from the sea is only 30m. An ideal investment for living and renting.
Our opinion
We liked the way the new complex was built and the ambiance around the complex with lots of greenery and beaches, as well as the good price for sale with top quality materials according to modern standards. Therefore, we can conclude that this property will satisfy many tastes that you will enjoy.
Terms of sale
Sold for a cash of 3,000e per m2. Pisco Real Estate agency will be happy to show you this property or provide additional information if you like it. Contact our agent.