R E N T E D, Rent
600€ - Apartments
Two bedroom apartment with garage in a great location
Location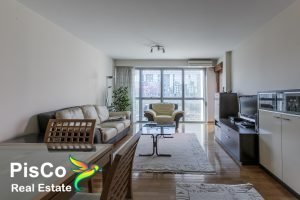 The apartment is located in the building "Maksim" which is considered one of the best in the city. This location is really a rarity, because from this point you can reach any part of the city in just five minutes. The building is built comfortably and with quality, with entrances, some of which even have a reception desk. Many of the nearby institutions and cafes for rest and entertainment will surely make this place attractive to you. The building is also well insulated with high quality thermal insulation material, which made this property very energy efficient.
Interior of the apartment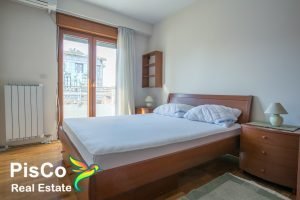 This property is located on the first floor, which is reached by elevator. Blind doors guarantee security and confidence from the entrance itself. By checking out and staying in this apartment, we concluded that the architects knew what they were doing. Very well-used space, very functional but appealing and comfortable. The large living room, which has a huge opening with a special glass that transmits light but not curious eyes, is really big and bright. In the extension there is a dining room that is not physically separated from the living room, but the kitchen is. The kitchen is lined up in line with the necessary equipment.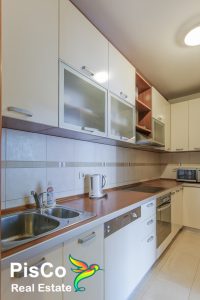 The bedrooms are large and spacious, which can be seen from our professional photographs, which we do for free for the landlords who hire us. When talking about photos, we would like to clarify that we take photos of every property with professional equipment, and for each property we are doing post-production. This guarantees that potential clients will get the right impression of the space we intend to rent. If you want to have the same treatment [maxbutton id = "9"]
The apartment is fully equipped with appliances and furniture therefore it is enough to bring only the bags. It has everything from bed linen to plates.
Conditions of the apartment
This apartment is for rent for a period of one year, with a contract and standard conditions. We consider it to be offered at market price and it is not overestimated especially if it is known that beside the apartment there's a garage place in the underground garage. So if you want us to present you this property feel free to contact us[maxbutton id = "8"]