House for Sale only 50m from the beach in Budva
Location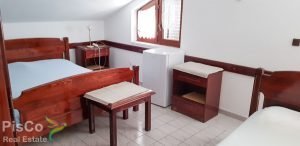 The house is located in an exceptionally location just 5 minutes walk to the beach. It is indented some 15-20m from the street, so that traffic noise is avoided. Behind the house there is a very nice orchard and a hill from which freshness comes, so it is extremely pleasant  to sit on the terraces during the summer, and also during the winter. Near the house there are a large number of markets, business premises, retail facilities, cafes, hotels, restaurants, hairdressers and beauty salons, as well as sports fields.
Interior and exterior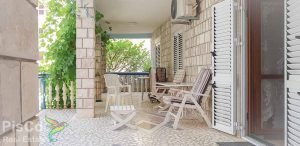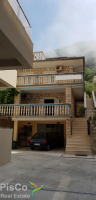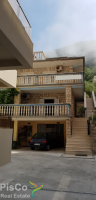 The house has 370m2 + 60m2 basement: ground floor, first floor, attic and basement. The house has 10 bedrooms, 8 bathrooms, living room with kitchen and dining area, three hallways, three large terraces, with a small orchard behind the house and a yard in front and next to the house. In front of the house there is a private parking + 2 garage spaces within the house. The house is provided with video surveillance. Each room has WI-FI, each room has a TV and air conditioning. The heating / cooling system is regulated so that the water is heated in summer by a collector, and during the winter and summer seasons it can be heated / cooled by air conditioning, which has proven to be very efficient in saving electricity. External steps were made from the ground floor to the first floor, and internal steps were made from the first floor to the attic. The house is lined with natural stone. The terraces are made of natural stone, and the fences themselves are made of concrete pillars, except in the attic, which are made of natural stone. The house is for sale furnished, and the furniture itself is made of natural wood (handmade).
Our opinion
What thrilled us most about this house is its spaciousness, as well as the space around the house. You can buy this house if you have a large family, as well as if you would like to engage in tourism, because it offers extremely great opportunities. Costs are reduced to a minimum, there are a number of parking spaces where you don't have to think about where to leave your car during the summer season. We are also delighted with the large and spacious terraces with a beautiful view of the city. For those who like quiet locations, and at the same time enjoy nature, we think that this house is a great choice.
Terms of sale
Sold for cash. Pisco Real Estate agency will be happy to show you this property or provide additional information if you like it. Contact our agent.