House on a plot of 1380m2 – Place Sušica on the road Podgorica – Spuž
Location
This facility is located on the road Podgorica-Spuž. From the KPD facility, some 800m away, and then you turn left. This area is very picturesque, peaceful, with lots of greenery. The land in this region is very fertile and cultivable, so for those who want to have their own orchard or garden, besides enjoyment, this is a good choice. The access roads are wide enough, paved, and the property is protected by a fence. At the entrance there is a large sliding gate, and a wide paved sidewalk leads to the house. This is a new house, built a year ago. In front of the house is a beautiful orchard that is not overcrowded, and according to the locals and the owner, both fruit and vegetables grow equally well. The land has an ideal humidity level and there has never been any flood or problems with it.
Inside and interior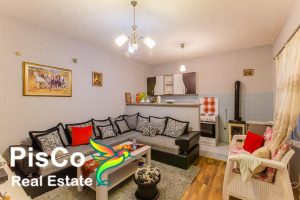 The house is decorated in a classical Mediterranean style, with large access pavements, with spacious terraces and glazed balconies. The house contains an entrance part which is also a terrace, then a large living room, which also has a kitchen with a dining room. This room leads to the bedroom, which is also large and spacious. The house has very nice and new furniture. For the days when the heating is necessary there's also a big rustic furnace that will easily warm up all rooms. We will mention that the house is well isolated with demit facade, and there are also good PVC windows. The bathroom is also spacious and very nicely arranged. There is also a town water supply here.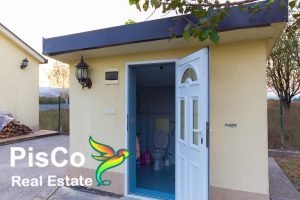 Next to the house there are 3 smaller facilities that are fully equipped. One is a bathroom, the other is fully equipped kitchen and the third is a storage room for garden tools and foodstuffs .We looked at every corner of this property and the overall impression is that this is a very valuable property that will surely attract its customers. The price-quality ratio is excellent.
Conditions of Sale
We only accept payment in cash, and it's sold along with regular papers 1/1. The house also has a building permit, a project by which it was built because there's been put a lot of care on every detail. Pisco Real Estate is an agency that has exclusive right for selling this property and we will gladly present to you all the information. Contact us.