R E N T E D
400€ - Apartments, Studio apartment
One-bedroom apartment in the heart of Budva – 47m2 + garage / RENT
Location and interior
The building is located in an excellent location near the city center and Budva boulevard. The proximity of supermarkets and green markets, cafes, restaurants, the beach and the Old Town as well as all-important city institutions makes this location attractive. The building is located in Rozino. It is rented with furniture . All papers are in order. Walking distance to shops, cafes, restaurants, walks. Everything you need for life is within walking distance.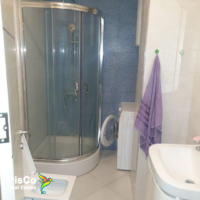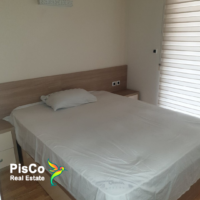 It is luxuriously furnished one bedroom apartment, 47 m2, on 1. floor. It consists of one bedroom, living room with kitchen and dining area, hallway, bathroom, and terrace. The apartment includes a quality garage of 11 m2. The building is built to very high standards, It consists of 128 residential units (12 penthouse apartments), 11 business and office spaces, 129 garage spaces for cars, 24 garage spaces for mopeds, and 20 basements. The exterior of the building consists of a structural façade made of low-emission glass, and part of it was built as a wind stone façade in two colors, with elements of all bond and a contact façade. The apartments are equipped with the most modern aluminum sunroof systems. Also, a sun protection system has been installed, the so-called antiscreen systems, made of the highest quality materials impervious to UV rays. The building has a system fire automatic fire alarms, sprinkler system in garages and business premises, air conditioning system, multi-split system and VRV heating and cooling system, and structural cable system. Communication in the building is done through elevators with six in the residential part and one in the business part of the building, which allows tenants high frequency and quick access to apartments and private garages. The entrances to the horizontal and vertical communications (stairs) are lined with granite.
Our opinion
We liked the way the apartment was decorated, the location, as well as the good price for sale with top quality materials. Attractive location is what makes this apartment interesting. Nearby there is a police station, health center, fire station, municipality, two primary schools, high school, a large number of markets. Therefore, we can conclude that this property will satisfy many tastes that you will enjoy.
Terms of issue
It is issued for cash on a monthly basis of 400e. Representative Pisco Real Estate agencies will show you this property or provide additional information if you like it. Contact our agent.