Luxury apartments in Budva
Location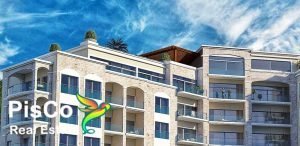 In cooperation with our partners from Budva, we are free to offer you an extraordinary complex of apartments located on a hill above Bečići. It is a gently sloping slope, so from this place there is a magical view of the sea. Also, the fresh sea air rises towards the mountains and makes hot summer nights a real pleasure. The land is suitable for construction and is only a 5-minute drive from the main road. The entire area consists of luxurious villas and complexes, and this is another in a series.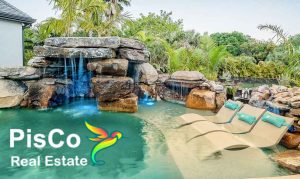 This tourist and residential complex forms a whole that is autonomous in every respect, so here you will find everything you need for complete enjoyment. These are apartments of the royal type, as the name suggests, and from this place you can also enjoy the view of our most beautiful island "Sveti Stefan".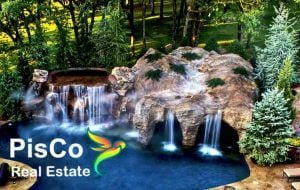 The complex is designed to be super luxurious, with 1, 2 and 3 bedroom residential units that are equipped with the most modern appliances and equipment. The investor is a renowned company that gained experience in the German market, and to our great satisfaction decided to invest in this part of Montenegro. So far, several projects have been realized at this location, so we can say that this is a reliable and reputable company.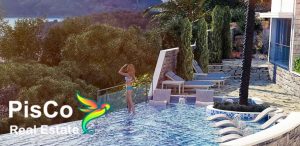 The works started in November 2018 and the planned completion is the summer of 2020. Future apartments can be adapted to you, and what the investor states as an advantage of this complex and what will be available to future buyers is the following:
– 2 private independent pools
– 1 swimming pool with heating
– water cave
– 75m2 bar within the pool
– 83m2 fitness studio
– 138 m2 Spa Center
– jacuzzi in the spa center for 10 people
– Sauna
– hamma / steam bath
– Turkish bath
– massage room
– relaxation room
– playground for kids
– reception available 24 hours a day
– entertainment room (billiards room and similar)
– shuttle service / transportation to the beach and airport
– laundry service
– the possibility of an individual plan/schedule
apartment under construction when purchased
– a sitting area with an outdoor fireplace,
– complete video surveillance of the entire facility
and on request in the apartment
– security / porter 24 hours a day
– yacht and car rental
– vip service
– closed parking spaces/garages with video surveillance
– professional facility maintenance company
Note
Our real estate agency will provide you with additional information regarding this valuable property. The sale is already underway and the first phase of the project is already 1/3 sold out, so if you want to get a 5% discount, please contact us[maxbutton id="8″] . We would also like to point out that the investor offers excellent conditions for renting and maintaining the apartment when you are not staying in it. There are real estate agencies and Pisco Real Estate.