Two bedroom nicely furnished apartment for rent in City Quarter near Sicily 70m2
Location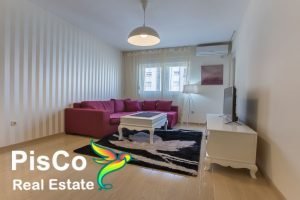 The apartment is located in a new zeta-building building which is lined with demit facade, it is the building where the Sicilian bakery is located. Very good location because everything is at your fingertips, and at the same time you are in the center of the City Quarter.
Interior and design
The apartment is nicely equipped with new furniture, has a large living room with beautiful furniture there is also plasma TV and exit to the balcony. There is a separate kitchen with dining table and chairs, the kitchen has absolutely all kitchen elements and appliances. The apartment has two bedrooms both of which have double beds and closets for things. The apartment also has a guest toilet and a large bathroom for the host.
Terms of issue
The apartment is rented for a minimum of one year at the request of the owner, and it is mandatory at the very beginning give a deposit (the deposit is in the amount of one monthly rent) and rent. It is mandatory to sign the contract for a minimum of one year and you can pick up the keys immediately after signing the contract. If you liked this property contact us for more information.