R E N T E D
2,500€ - Houses
A house that will fulfill all your expectations regarding cosiness and comfort
Location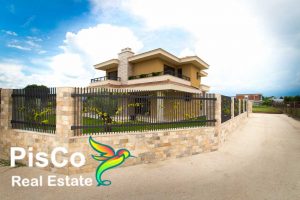 The house is only 5 minutes drive from the great shopping mall "Delta". The house is in a quiet environment and is located at the end of the blind street, which guarantees peace and intimacy to future tenants. It is surrounded by a beautiful fence covered with ornamental stone, and the access road is wide enough. It is located on two levels, and it's accessed through a sliding gate that has an electric motor installed on the remote control.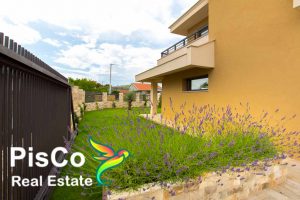 The house has two entrances. One is the main entrance and the other is directly from the closed garage. Parking space in front of the house is spacious enough to park several cars. The house is very modern, built in a Mediterranean style, combining wood and stone. The most modern materials are used, and the energy efficiency of this building is at the highest level. In front of the house there is a spacious courtyard with a cultivated lawn, which has a built-in weather irrigation system. The house is only a year old and hasn't been inhabited yet.
Interior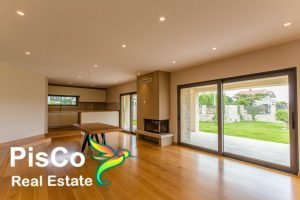 From the very entrance of the house it can be seen that the architect who designed this space knows his job very well. Functionality and sophistication are the characteristics of this space. There are wooden floors with quality parquet, and ceramics surrounding the space but not dominating. Underfloor heating is installed in almost all rooms, along with all modern air conditioning systems. Special attention is dedicated to lighting. Indirect lights give the room warmth and quite enough light.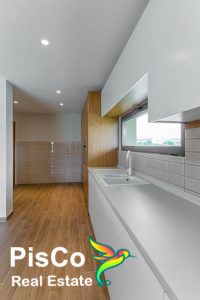 You can adjust the brightness as you like. There are also large glass openings leading to the porch which is also covered. Low-emission glass is used, which is in favour of better isolation and better energy efficiency. A heat pump is also used for heating, which is placed in a separate room between the garage and the entrance hall.
A large living room is decorated with a modern fireplace and there is also a rustic dining table made of solid wood. The kitchen is made of high-quality mediapan, with a ceramic sink and there is other built-in equipment nicely fitted-in and hidden.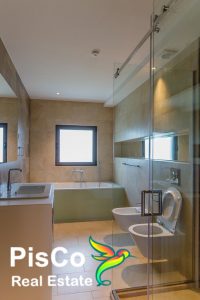 The bathrooms were designed to provide complete relaxation and enjoyment. Sanitary facilities are of among the most famous manufacturers. All rooms have built-in closets and places for storing little things and wardrobe.
Large bedrooms with built-in closets, and separate toilets also contribute to the feeling of high comfort.
Conditions
The rent is for ten days. Pisco Real Estate is authorized to represent this property, therefore we will be happy to present this valuable facility. Future buyers are only left to choose furniture at their will, for this space to reach the very peak.